Knowing that most business professionals in need of maintaining and operating resource processes in digitized automated form, use "ERP" they may not know exactly what Enterprise Resource Planning (ERP) software should they adopt for their teams.
We will explain exactly what ERP is, how it works, what it can do for your business, how to choose the right solution, and much more
What is ERP?
ERP stands for "Enterprise Resource Planning". An abbreviation itself defines, Enterprises i.e Companies, businesses use ERP to customize, check and Automate daily activities, processes, and operations of Business that is the most time-consuming when handled by Human resources.
In other words, an ERP system being an integrated Business' Process management software suite not only helps to maintain easy access to data but consolidates centralized applications that help Manage and Automate the process of collecting and organizing key business information, data, and operations including Accounting, Human Resources, Sales, Manufacturing, Supply Chain, Inventory Management and all such Processes.
Not only this but facilitating common databases instead of standalone systems to organize business processes allows all users from CEO to administrative staff to create, store and access the same data from the same platform from any place. 
Moreover, various controlling actions like which User can access which and how much data and operate which processes can be customized. Thus ERP helps organizations automate back-office functions and thus run lean, efficient operations, even during their huge expansion.
As a whole we can say that ERP aids to connect every aspect of Business in the most resilient and efficient way, improvising Business productivity.
How does the ERP system work?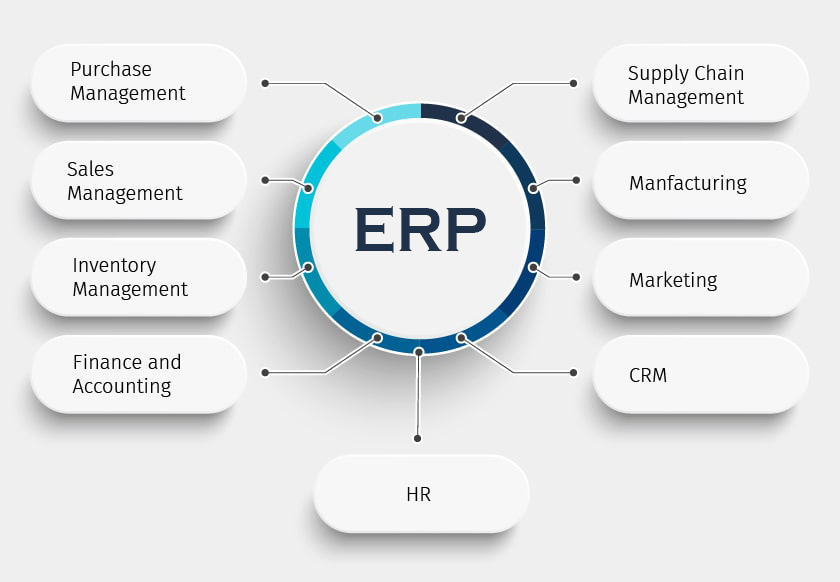 An ERP system typically contains dashboards where users can observe real-time data that is collected from all the fields across the business to measure productivity and profitability, derive the required data, and process it for further analysis and applications.
For example, Odoo is one of the leading open-source cloud ERPs that covers a wide range of applications and modules like 
For example, Odoo is one of the leading open-source cloud ERPs that covers a wide range of applications and modules like 
Inventory and Manufacturing apps that include - Inventory, Manufacturing, PLM, Purchase, Maintenance, Quality, 
Finance Apps that include - Accounting, Invoicing, Expenses, Documents, 
Website Apps that include - Website Builder, eCommerce, Blogs, eLearning, Live chat, 
Human Resource apps that include - Employees, Recruitment, Time off, Appraisal, Referral, Fleet, 
Marketing Apps that include -Marketing Automation, Email Marketing, SMS, Social, Events Survey, 
Services Application that includes - Project,Timesheet, Field Services, Helpdesk, Planning, Productivity Apps that includes - Approvals, IOT, VOIP.

Moreover, based on business verticals, customized applications can also be designed and developed that can be installed and used by companies. Not only this, but as an Official Odoo ERP software development partner company, ERP CLOUD provides you with end-to-end services such as customization, deployment & implementation, integration, and support for training. 
Just take one example of Purchase in Inventory and Manufacturing application here. It facilitates all the operation of Purchasing in Business in a fully Automated way where creating and validating Purchase orders is done within a few clicks saving most of your time. Not only this, maintaining and accessing records of Purchase Order based on User's need. Various other operations like picking done or not for a particular order, vendor details, and all such relevant databases can be maintained and accessed very easily that not only saves time, energy, and money but also reduces human error. 
Without an ERP, data is commonly preserved by the department, and is ideally impossible to access data across a company. By using an ERP, data from multiple departments, and branches of business can be easily shared and visualized across a whole or part as per need. This wealth of information and simplification can assist in the development of business goals and reduce the amount of time in days that your employees spend in deriving data that could be automated and reduced to a few seconds or minutes, also an error-free report.
Core Features of ERP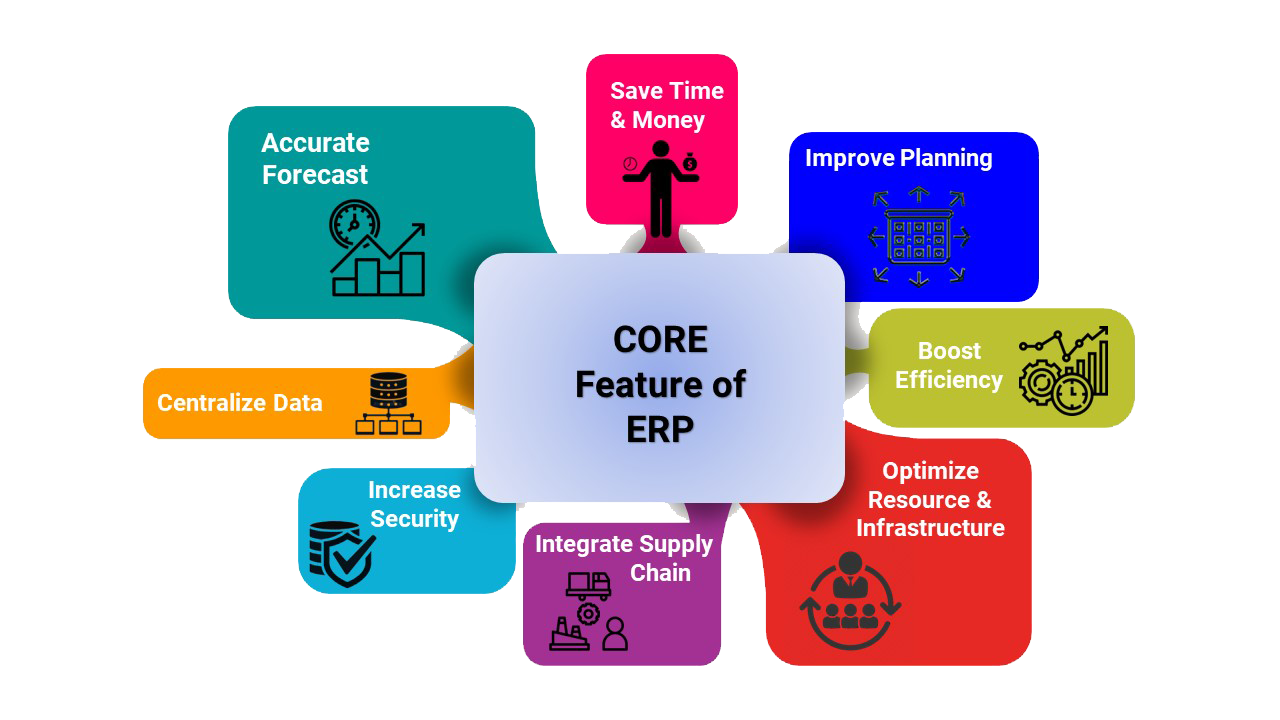 ERP systems typically cover all the aspects of business operations and commonly provide:
An integrated system
Common database 
Easily Accessible from anywhere (cloud hosting)
Real-time operation
Support/interface for all applications/components.
Common user interface across whole business resources and processes.
Ability to collect and compare data metrics, results, and performances across departments.
Provide the number of different reports based on demand, roles, or user preferences
Facilitates a complete view of business performances.
Facilitates complete insights on how the resources are being utilized.
Generates Synchronized reports and automation process, reducing the need to maintain separate databases and spreadsheets that are manually merged to generate combined reports.
Provides ease and valuable insights into data analysis.
Provides Security to data of your Business by following various Security Protocols.
Who uses ERP?
Businesses across every industry, with diverse models, have realized the benefits that come with ERP. Flexible solutions with extensive functionality can cater to a wide variety of organizations and requirements.
Industries that rely on ERP to run their businesses include:
Advertising and digital media
Apparel, footwear, and accessories
Campus stores
Consulting
Educational institutions
Financial services
Food and beverage
Health and beauty
Healthcare and life sciences
IT services
Manufacturing
Media and publishing
Professional services
Restaurants and hospitality
Retail Industry
Software and technology
Transportation and logistics
Wholesale distributors.
ERP hosting models
Based on organizational needs and size, the deployment model of ERP may also vary but is usually classified into the following categories.
Open Source (General) ERP systems:

This ERP system is usually not tailor-made for one Industry or purpose. Usually termed as Open Source ERP providing its source code with the deployment, it might be publicly available to access and might not. Various applications are available in built facilitating to automate and track everything - centralized database, online, accessible from anywhere from any device. However, for best performance throughput developers may develop customized statistical, and analytical solutions which can be implemented in Business for better optimal efficiency ahead. This ERP can be called the most inexpensive among all but support from providers will be minimal. Configurations, Customization, and Updates solely depend on staff or third-party consulting or service provider firms.

Cloud-based ERP:

This ERP runs on vendors' cloud platforms or servers, hosted by vendors rather than on-premise networks and managed by a third party. Users can access data through Web Browsers, providing more flexibility. Information, data, and reports can be accessed from anywhere within an internet connection.

On-Premise ERP

With an on-Premise ERP, the business runs software on its own server. Moreover, security, maintenance, upgrades, and customization are all responsibilities of In-House IT professionals of the Business itself. Additional cost for maintenance troubleshoots, data security, customization, updates, security, and antivirus software, and data backup systems are all on the shoulders of business owners.

Hybrid ERP

It is a combination of implementing cloud-based and on-premise ERP system Solutions. The combination varies based on Business needs and service providers both. For some units, On-premise ERP may be implemented whereas for headquarters accessing and controlling data randomly Cloud ERP may be implemented. On-Premise ERP solutions are here integrated with Cloud ERP. Such models facilitate users with the flexibility of integrating, migrating, and upgrading delivery models based on needs not available in existing single model implementation. Usually, from cloud ERP, the advantage of the technology and access and for controls, on-premise ERP is implemented. Yet most probably it varies for different Businesses based on needs.
6 Functional Benefits of ERP, including but not limited to
Finance/accounting:

The accounting team often the first adopter, tracks and reports on all transactions and other financial information in the system, which includes accounts payable (AP), accounts receivable (AR), and payroll. With ERP, financial planning and analysis (FP&A) experts—whether in a separate role or part of the accounting department -- transforms comprehensive financial data into forecasts and reports on revenue, expenses, and cash flow.

Supply chain:

 

Employees focused on automated operations, a process that includes purchasing agents, inventory planners, warehouse managers, and senior supply chain leaders, rely on the ERP system to ensure a smooth, and continuous flow of goods from supplier to customer. They count on accurate, detailed information provided by the system to optimize inventory levels, prioritize orders, maximize on-time shipments, avoid supply chain disruptions and identify inefficient processes, and centralize all the warehouse platforms of the same organizations

Sales and marketing:

An ERP solution implemented can increase the productivity of and drive better results for your sales team by automating lead management and monitoring the interactions with prospects within your company. Using those same records, marketing can automate and manage outreach across all channels, from email to display ads to social media, and measure the effectiveness of those messages and thus channels to allocate its budget in the best way possible.

Human resources:

The HR department tracks all employee information and broader workforce trends in the ERP. They can quickly find contact information, compensation benefits details, and other documents for each employee from the ERP system, immediately as and when required. It aids HR to monitor metrics like retention by department, average pay by title, promotion rate, and other metrics to better allocate its own staff and assist line-of-business managers.

Reporting/Analytics:

Accessing centralized data is useful, but most advantageous when analyzed over it is possible that is most beneficial in aspects of decisions driving business to optimum profit. ERP facilitates the development and implementation of various customized Solutions that uses statistical data and generates Analytical reports based on the requirement in Business that helps to take comparative decisions leading Business to top-notch sustainable growth and Success.

Integration:

ERP systems facilitate Business Intelligence to develop applications and solutions that convert the data to generate reports and have detailed insights and analysis that aids Businesses to redesign their resources, restructure and capitalize on market opportunities, and ongoing processes in Business. 3rd Party analytical solutions can be installed and data is used for analysis. One example here is the ​

Shopify connector

, which connects the backend Shopify eCommerce platform to ERP and allows not only data transmission between the eCommerce platform and ERP but various processes of the eCommerce platform can now be handled directly from ERP.
All in one
Implementing an ERP system seems to outweigh the initial cost but in reality, it facilitates long-term gains after implementation as the most beneficial feature of it is facilitating the integration of the most in need Customer Relationship Management platform.
Adopt the right ERP system that suits perfectly the needs and processes of Business that edge to lead at top of the competition because of the higher level of operational intelligence that is feasible because of implementation allowing you to perform best, delivering the best quality experiences not only to customers but to employees too who act as pillars of your Business.
---


We succeed in implementing Right ERP Solutions @ Right time understanding exact problem of Client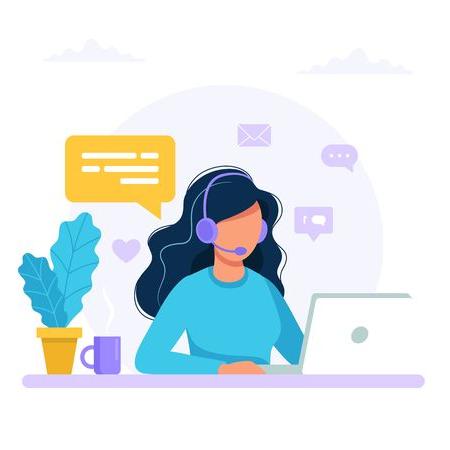 Our various solutions helps you to grow business with odoo ERP
Our Services
We have built an expertise in ERP Consulting Services by designing righteous, accurate, on-demand Business Solutions.